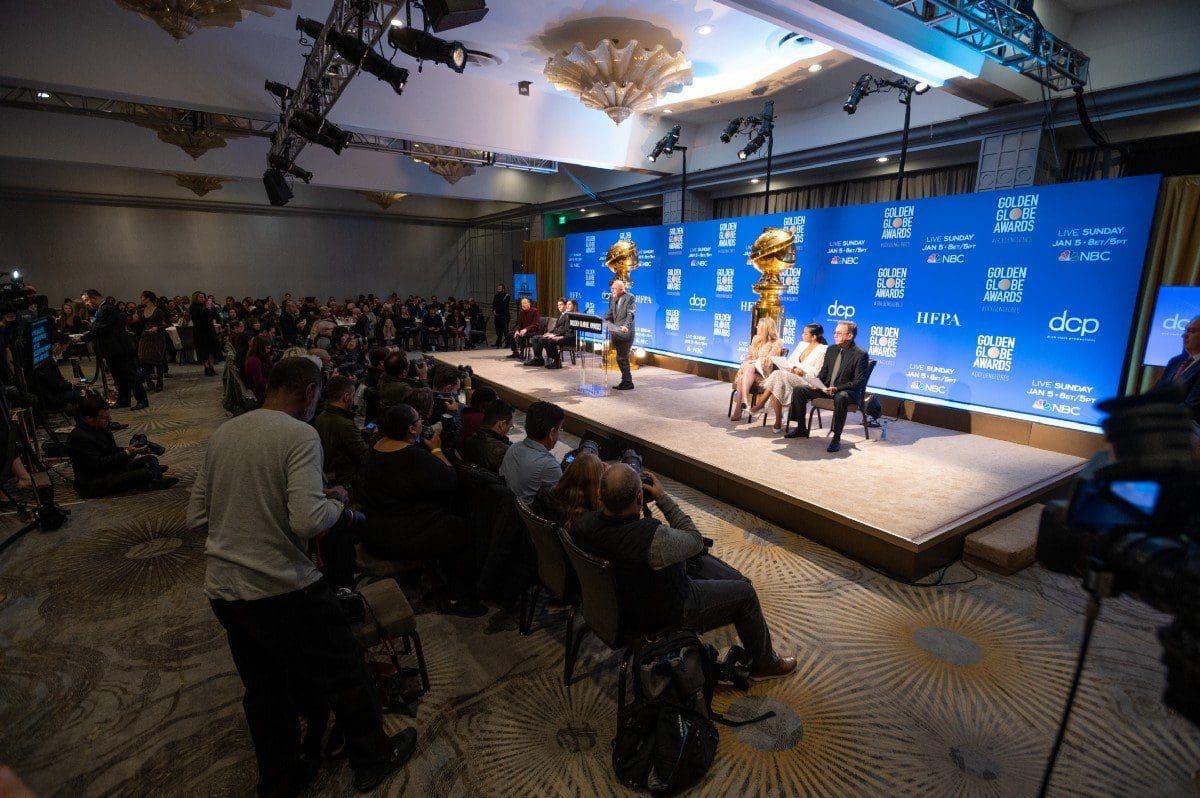 Imagen de esta mañana en la presentación de los nominados de este año a los Globos de Oro. (Fuente: Golden Globes)
En el mismo día en que hemos conocido los candidatos a los 25º Premios de la Crítica Cinematográfica estadounidense se han desvelado las nominaciones de la edición 77º de los Globos de Oro. Tim Allen, Dakota Fanning y Susan Kelechi Watson han acompañado Lorenzo Soria, presidente de la HFPA en el anuncio en California.
Una lista sin demasiadas novedades y que replica la que ya ha presentado la crítica de una forma bastante semejante, donde sorprende la escueta presencia de Juego de tronos que se ve representada únicamente por Kit Harington y que no repetirá nominación como mejor drama en su última temporada. La nota de color la aporta Helen Mirren, que ha conseguido colar a Sky con Catalina la Grande.
En cuanto a los más nominados, un triple empate se pelea en primera posición con The Crown, Chernobyl y Creedme alzando 4 candidaturas. En segunda posición encontramos a Succession, Big Little Lies, El método Kominsky y Fleabag que logran destacar con 3 candidaturas.
Por su parte, la nueva plataforma de televisión de Apple TV+ logra sortear la duda inicial de sus producciones, consiguiendo para The Morning Show 3 nominaciones, como mejor comedia y como mejor actriz con Jennifer Anniston y Reese Witherspoon en la misma categoría.
Drama
Mejor serie de drama
Mejor actor en serie de drama
Mejor actriz en serie de drama
Comedia
Mejor serie de comedia
Mejor actor en serie de comedia
Ben Platt —The Politician (Netflix)
Paul Rudd — Vivir contigo mismo (Netflix)
Ramy Youssef — Ramy (Hulu)
Bill Hader — Barry (HBO)
Michael Douglas — El método Kominsky (Netflix)
Mejor actriz en serie de comedia
Serie limitada
Mejor Serie Limitada
Mejor actor en serie limitada o tv movie
Mejor actriz en serie limitada o tv movie
Reparto
Mejor actor de reparto en serie, serie limitada o tv movie
Mejor actriz de reparto en serie, serie limitada o tv movie
Meryl Streep — Big Little Lies (HBO)
Helena Bonham Carter — The Crown (Netflix)
Emily Watson — Chernobyl (HBO)
Patricia Arquette — The Act (Hulu)
Toni Collette — Creedme (Netflix)
Nominaciones por cadenas
Netflix: 17
HBO: 14
Hulu: 5
Amazon Prime Video: 5
Apple TV+: 3
Showtime: 3
BBC America: 2
USA Network 1
Nominaciones por series
Chernobyl: 4
The Crown: 4
Creedme: 4
Barry: 3
Big Little Lies: 3
Fleabag: 3
Fosse / Verdon: 3
El método Kominsky: 3
The Morning Show: 3
Succession: 3
The Act: 2
Trampa-22: 2
Killing Eve: 2
La voz más alta: 2
The Marvelous Mrs. Maisel: 2
The Politician: 2
Catalina la Grande:1
Dead to Me: 1
Juego de tronos: 1
Cómo vivir contigo mismo: 1
Mr. Robot: 1
Llegar a ser un Dios en Florida: 1
Pose: 1
Ramy: 1
Muñeca rusa: 1
El espía: 1